Baptism Invitations
Congratulations on your baby girl's or baby boy's baptism. We offer many christening and baptism invitations for you to chose from.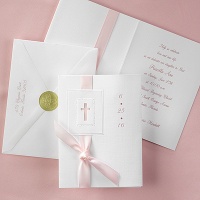 Lovely Dedication
Bring together friends and family as your son or daughter is dedicated to God. Choose between a blue mist, lavender, light pink, sage green or white ribbon to be weaved through the front of the invitation.
$169.90 per 100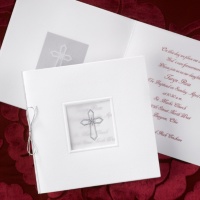 In God's Care - Silver
This 5 1/2" x 5 1/2" white invitation has a die-cut window featuring a silver foil cross.
$169.90 per 100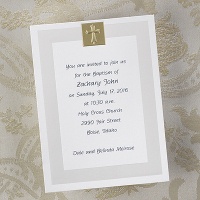 A Holy Event
Your wording is centered on this simplistic announcement, giving it full attention. A gold cross and pearl border help reflect the religious occasion to recipients.
$116.90 per 100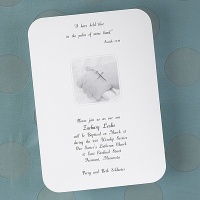 In the Palm of Your Hand
The tiniest hand holds a cross on this white card. The curved edges around the card are a delicate touch.
$129.90 per 100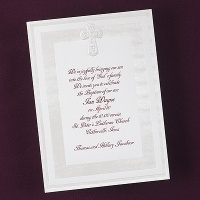 Pearlized Cross
An intricately designed cross is centered at the top of this pearlized border card with your personalization below.
$129.90 per 100
Home
Copyright © 2016 BaptismInvitations.biz - All Rights Reserved - Date: 12/7/2016